The Prepared Environment
What's your name, how many kids do you have + how old/what are their names
My name is Sarah Adams. I have one daughter, Layla, who is almost 2 years old
What is your business + what services do you provide
My business is called The Prepared Environment. I help caregivers create a prepared, organized and child-friendly home. I provide consultations and hands-on de-cluttering and organization. I am a Montessori teacher, so I can give information and tips if parents are interested in a Montessori view point as well. I also make Montessori Infant mobiles that I sell locally and on Etsy.

Where did the passion for this entrepreneurial business grow from / why do you love what you do
I found myself very overwhelmed by the amount of STUFF that came with a baby. We were so fortunate to receive a lot of gifts and hand-me-downs from family and friends, but this added to the collection. I also wanted to give my daughter developmentally appropriate toys and I found that I was bombarded with choices. I wanted someone to just come in and tell me what to do...or better yet, do it for me!
I took a professional organization course and a 0-3 Montessori child development course. I decided I would be my first client.
After I became more comfortable with the process, I mentioned my idea to a few friends who are parents and they loved it! I practiced at first with people I knew, and then I got referrals and it's taken off from there. I have worked with over 50 families since March.
I love seeing the immediate results when I've helped with a play space. I get text messages and emails days and weeks after from parents saying how much better their home feels. Their children play with their toys in a different way and the clean up is so much faster.
What is one important issue that you see keep coming up from your parent clients
People are busy and overwhelmed. They want to simplify their homes and get organized, but it's not always the top priority, or they can't find the time. It's amazing how much we can get done in a 2-hour session when we focus and work together. They always say that they wish they did it sooner.

How do you "balance", or organize your day
I am a full-time Montessori teacher (upper elementary) during the school year. I am not a morning person, so I try to prep everything the night before. When I get to work in the morning, I sit, drink a cup of coffee and listen to some music. This really wakes me up!
I've started exercising on the way home from work, otherwise I just don't find the energy or time. I love to-do lists, but I keep them short so I feel successful!
After my daughter is in bed, that's when I focus on my business for a few hours. I make mobiles while watching Netflix, or work on my website. I have to make a plan or else I get distracted on social media lol.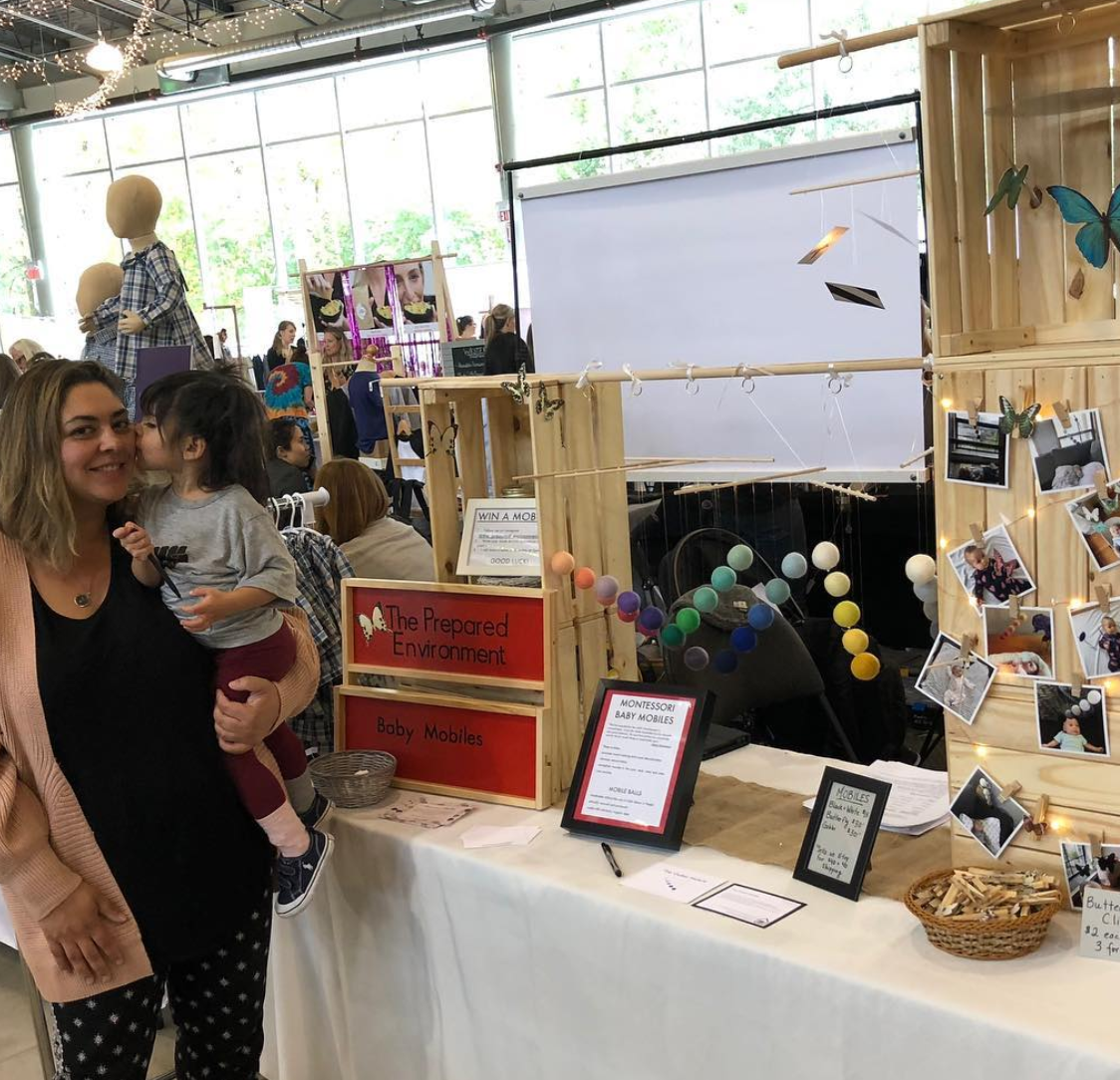 I love seeing the immediate results when I've helped with a play space. Their children play with their toys in a different way and the clean up is so much faster.

What are some nightly rituals/self care you do, to end your day
I love to read. I usually have a cup of tea and read a good book before bed. If I have a lot on my mind and can't settle, I listen to a meditation app on my phone and that helps me relax.

What are 3 products you can't live without
I love Skoah products for my skin. I use them religiously and have noticed a huge improvement.

I drink a lot of tea and coffee. My favourite teas are Creamy Earl Grey from the Secret Garden Tea Company and Moroccan Mint from Trader Joes.

We use Alba Botanica Kids fragrance free sunscreen on Layla everyday in the summer!